Tripawds is a user-supported community. Thank you for your support!
Hi everyone! My name is Lucky. I'm a 5 year old yellow lab (my brother Jeff tells me that no matter how old I get, I'll always be his puppy). My family tells me that I am the best doggy in the world, but I think they're the best humans ever!
I've had a rocky road leading up to today. Let me start from the beginning. Towards the end of last summer (August), I had an incident where my family came home and I was limping on my right front leg. Nobody knew why, but before too long I was back to normal. Then, a couple of weeks later, I woke up in the middle of the night and my right paw hurt really bad, so I held it out in front of me and howled for a little bit. Again, the pain got better before too long and I went back to sleep. My humans took me in to see the doctor, because Jeff had done some online reading and was worried about osteosarcoma. But the doctor told us that she thought I didn't have osteosarcoma, since I was young and there was no swelling or tenderness in my leg. Instead, she said that maybe I had something neurological going on with my discs, so she sent me to a specialist. This doctor said he didn't feel any tenderness in my leg but thought maybe there was some discomfort with my shoulder (Doctors are silly, my paw was all that ever hurt!). My humans asked him to do an x-ray, so they did, and said that there was no osteosarcoma. Whew! But they did send me over to ANOTHER specialist to get an MRI done to check for neurological signs. I got an MRI done on my shoulder and spinal column, and the doctor said he didn't see anything and it wasn't worth going into my leg with the MRI. So my family was back to square one.
Long story short, when my limping started to become a little more consistent about a month ago, my family took me back in to see the x-ray doctor and found out that he had just x-rayed my shoulder and not my entire leg! What kind of a doctor wouldn't x-ray the entire leg for limping problems with no obvious cause!!! My mom and Jeff weren't too happy (and I was sick of getting all these needles stuck in me and procedures done!). They asked for the doctor to x-ray my leg. He did, and the results came back as a bone cancer.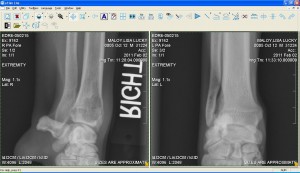 From there, it's all been a whirlwind. I got an FNA of the bone tissue sent to the lab and the report came back reading something like "moderately atypical bone tumor". My family hasn't really been able to explain to me what that means, because I'm not sure if they're positive of what it means themselves. Jeff is telling me that we're trying to be very optimistic in hoping that it means the cancer cells aren't that high grade yet. If anyone can help interpret this wording, that would be great.
In terms of optimism, they did my chest x-rays and nothing showed up abnormal, and my alkaline phosphatase levels are on the low end of the normal range, at 22, so supposedly those are very good things.
I'm getting my leg amputation surgery tomorrow. I'm not too worried about it, because I'll be happy to be getting rid of my booboo that I'm just dragging along with me now. Besides, I'm already basically getting along pretty well on three legs! Jeffrey says he's going to take me on all kinds of adventures on three legs, so I'm excited about that too! I've never seen the snow before, so I really hope we can go there!
Although I'm not so worried about the leg amputation, I am very worried about my family. They seem really worried. I think the idea of me losing a leg tomorrow is a lot harder for them than it is for me! They've been spending all kinds of time on tripawds watching videos and reading stories about all the other amazing tripawds out there, so I think that's definitely been making them feel better. And I've got a few tricks up my sleeve. I'm going to try really hard to amaze them with how much I'm going to be able to do with my three good legs! I pride myself in being the happiest dog around, so maybe I'll be the one bringing some cheer into my recovery process for my family! Here are some more pictures of me and my family!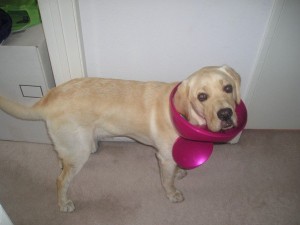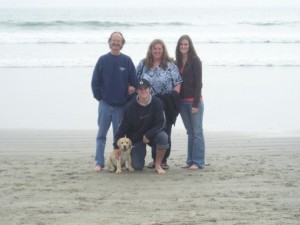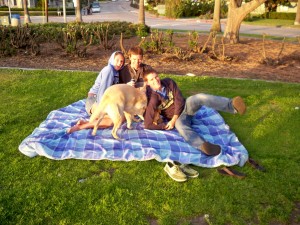 Well, that's all for now. Tomorrow's the big day! Please keep me and my family in your thoughts, and wish us luck!